RQ: I have been thinking about some point we do not feel the need to incarnate, I was told we will just merge back with God.

I wonder how everyone feels about that.

My human perspective makes me cringe at that. I never liked control from and distrust authority. The idea we merge back probably isn't what I think it is. I have this feeling that we will end up merging and lose our identity. Probably just a death fear that I have here, projected on to Heaven.

A: (Paraphrased from The Committee) You are God now. The connections, matrix and web of links among & between all souls - incarnated or not - are God. There is no patriarchal figure with control, handing out favors and/or punishments for disobedience or following "his" words & command. That's the human view of say, a benevolent dictator or king, transposed (imposed?) to suit human points-of-view and/or experience.

Another way to say "God bless you" is, "May the force be with you, may the force be with us."

There comes no point when you feel either a "need" or resistance to incarnate.

First of all, nobody ever does it because of need or urge. It's done as a happy adventure; the suggestion of "need" never enters the equation.

Contrasting Earth example: somebody "needs" to ride a wild roller coaster to overcome fears. Most riders either stay off or gladly hop aboard for the thrill and adventure. A few in the middle of the crowd might feel a "need" to accomplish a purpose; this is among humans.

Our souls NEVER see incarnation as a task, duty, obligation or chore that "needs" to be done. Either one chooses not to do it, ever (and there are souls in Heaven unaware of incarnation) or s/he and we jump in with all three feet.

When our bodies die, we re-discover what we always are, seeing once again how the solid and permanent connections we all have to one another, are what simultaneously create independence and autonomy.

There is no ability to hold authority over anyone, because they hold the same connection to you. What might be imposed over and upon you against your will, encounters your same ability to impose upon others, if you so choose. Why? Because connections are permanent; there is no such thing as escape. You can't get away and neither can the would-be tyrant. thus, there are no tyrants, impositions, fear of flight or pursuits.

Incarnating on Earth however, provides a chance to play king & overlord or subject & victim.

We are not re-absorbed back into anything. There is no Borg Collective. Our individuality is enhanced, not reduced, when our bodies die.

Powered by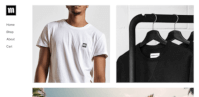 Create your own unique website with customizable templates.