Before the topic of the day, allow me to respond to a website message without an e-mail address. The suggestion was an afterlife interview with the soul of model Gia Carangi, who fell victim to drugs and passed away from diseases related to AIDS. The reader suggested Carangi's perspective on several topics. Knowing nothing about her and not even recognizing the name, I ask you readers for questions about:
Addiction
HIV

Body image
LGBT issues (essentially 3 topics in 1; bisexuality, homosexuality and transgenderism are as independent of one another, as they can be related)

Today's topic:
Powered by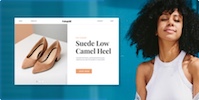 Create your own unique website with customizable templates.